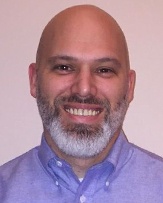 As part of our monthly "Company Culture" blog series, we're going to start publishing interviews with Oversight team members so clients and prospects can get to know us better. Started by Oversighter Julia Versaci, this is the third interview in our series. After talking with Client Engagement Manager, Beverly Kays, and Oversight's Manager of Risk Compliance and Privacy, Chris Hamilton, we're now focusing on another department and bringing to you a great interview with Chris Fiquette, an Operations Engineer for IT Special Projects.
---
(Julia) For those who may not know, there is a significant statistical outlier at Oversight regarding the number of employees named Chris (we have LOTS of them), so I'll refer to you as your last name of Ficquette in the questions and answers below for clarity. So, Chris, how long have you been working for Oversight?
A (Ficquette): Just over 5 years
Q (Julia): You just moved recently into the IT Special Projects area, so a lot of us are curious to know what kind of work you are doing now in your new role…
A (Ficquette): I work in a lot of areas of synchronizing, automating, and streamlining various IT processes. That work is mostly shell and SQL, but also some Java. I'm also doing some knowledge development in the area of our work for the Department of Defense.
Q (Julia): What did you do before you came to work for Oversight?
A (Ficquette): Before working for Oversight, I worked in software development and help desk management. I was also an Army Reservist from 1997 to 2012.
Q (Julia): Where did you serve?
A (Ficquette): Most of my reserve posts were in Georgia, Alabama, and Florida. I was deployed to Kuwait/Iraq as a General's Aide and then again as a Movement Control Team commander in Shindand, Afghanistan. I also visited Egypt, Bahrain, Kyrgyzstan, Djibouti, and Qatar. My most recent command was with a Quartermaster company of about 300 Soldiers.
Q (Julia): Were you directly involved in any action?
A (Ficquette): I travelled around quite a bit in Iraq, often by helicopter and convoy. I was sometimes in the line of fire, but I was never in the position where I returned fire in a combat role. In Afghanistan, there were a few indirect fire situations.

Q (Julia): I have always admired your leadership skills here at Oversight. Is there anything that you learned in the military that helps you in your work here at Oversight?
A (Ficquette): I find that the Army core values can apply to any area of life. I also think that things run more smoothly when there is a clear chain of command, so I always try to clarify all requests and responsibilities so that everyone knows what is expected of them. When your role and requirements are clear, then you have the freedom to be creative within the parameters that have been specified.
Q (Julia): What are the Army core values?
A (Ficquette): They are Loyalty, Duty, Respect, Selfless Service, Honor, Integrity, and Personal Courage.
Q (Julia) Yes, I see how those values could help keep you on the right path in a lot of different areas. I know that I speak for everyone at Oversight when I thank you for your service to our country. Are there any other major themes that you took away from your time overseas?
A (Ficquette): Experience in other countries with less reliable infrastructure than ours, especially in wartime, can really make you appreciate the things in life that we take for granted here like plumbing, water, electricity, and transportation. Stay grounded and be appreciative of the simple things and you will be a lot happier and less stressed. I have also never been mortared in my neighborhood, which was a selling point.
Q (Julia): What are your hobbies and interests outside of work?
A (Ficquette): My interests outside of work fall mainly into the categories of music and martial arts. In the musical arena I compose and record music, mostly heavy metal and some acoustic covers. I also build guitars. I have built several and am usually working on a new one. In martial arts, I study in the area of BJJ (Brazilian jiu-jitsu). I also indulge in console and PC gaming.
Q (Julia): I never heard of BJJ. What is it like?
A (Ficquette): It focuses a lot on grappling and ground fighting. I used to be a wrestler so my wrestling background flowed kind of naturally into this discipline.
Q (Julia): What are your musical influences?
A (Ficquette): I grew up on 80's thrash and punk styles of music. Metallica and Anthrax were in heavy rotation. Some examples of bands that I listen to now are Amon Amarth, The Casualties, Carnifex, and Darkest Hour.
Q (Julia): Moving back to Oversight, you currently work in a row of cubicles where every person in the row is named Chris. How do you tell yourself apart from the others? Does this ever lead to an identity crisis?
A (Ficquette): Well, my many tattoos and "colorful" language usually makes me pretty easy to pick out of a Chris lineup. New employees are warned in advance.
Q (Julia): You have tattoos over most of your arms and legs. They are very unusual for their high degree of artistry. When did you start getting tattoos?
A (Ficquette): When I was 18, I started with a few tattoos in Japanese kanji of reminders of important values like the kanji characters for "to win", "be strong", faithfulness, loyalty, and honesty.

Q (Julia): Other than your tattoos, you are known around the office for your terrific sense of humor and your practical jokes. My favorite story about you that I was lucky enough to experience first-hand is the time that you were asked to "shake things up" at the Insights on Demand kickoff celebration. During our product kickoff speeches, you went up to our CEO, whipped out some scissors, and cut off his tie. It still makes me laugh to think about it. What is your favorite story from your time at Oversight?
A (Ficquette): …I still have the chopped off tie displayed in my cubicle. I set that up by having him close his eyes in preparation of a "trust fall". One of my favorites is the time that the executives, including our CEO, all wore tattoo sleeves hidden under their business shirts. Then during an all hands meeting they all rolled up their sleeves to display their temporary tattoos in imitation of mine. One year Patrick dressed up as "Farmer Ficquette", which consisted of overalls, a straw hat, and tattoo sleeves. Just recently I dressed as Spiderman and sprayed a few people with silly string.
Q (Julia): What is your favorite thing about working at Oversight?
A (Ficquette): I love that in my role I get to explore new technologies and incorporate the best fit to solve the problem that I am working on. At Oversight we are always evaluating new technologies and technological trends.
Q (Julia): Do you have any words of wisdom that you want to share with our customers?
A (Ficquette): For customers, I recommend that you be very consistent in the structure and integrity of any data that you prov