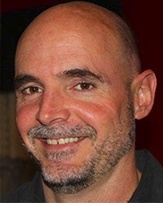 As part of our monthly "Company Culture" blog series, we're going to start publishing interviews with Oversight team members so clients and prospects can get to know us better.
Last month, Julia Versaci interviewed Client Engagement Manager Beverly Kays. Now it's Beverly's turn to join in on the fun and interview a fellow Oversighter she'd like to get to know better. Here's Beverly's interview with Chris Hamilton, Oversight's Manager of Risk Compliance and Privacy.
---
Q (Beverly) How long have you been working for Oversight?
A (Chris Hamilton) It was 5 years in May, so about 5 ½ years now.
Q (Beverly): What are some of your duties in your role?
A (Chris Hamilton): I help make sure that Oversight maintains a strong security posture and that we are good data stewards of both our own data and that of our customers.
Q (Beverly): How Did You Get Started in This Area?
A (Chris Hamilton): I had already been with Oversight as part of the IT team and an opportunity came up in security. It sounded interesting to me and I was able to make the move within the company.
Q (Beverly): You are one of 5 employees named Chris and 4 of you all sit rather close to each other. Does anyone get you confused with another Chris?
A (Chris Hamilton): No, no one gets the emails or phone calls for the others, but we do sometimes have to clarify which Chris if more than one of us is on the same conference call. We will also have people come over to the area and say "Hey Chris" and they get a response from all of us at the same time.
Q (Beverly): What are your hobbies and interests outside of work?
A (Chris Hamilton): College football (favorite team Georgia Bulldogs) and camping and kayaking with my family. We have two single kayaks and are looking at getting a couple more for the kids in the future.
Q (Beverly): What do you like the most about working for Oversight?
A (Chris Hamilton): I work with a lot of outstanding and dedicated individuals.
Q (Beverly): Any words of wisdom that you want to share with our customers?
A (Chris Hamilton): Always be mindful of who is accessing your systems and data.