Oversight recently released our first ever Spend Analysis Report for T&E. For this analysis we studied the behavior patterns of 160,000 travelers and analyzed 10 million transactions to come up with the shocking statistics contained within the report.
We found that 20% of employees indulge in non-compliant spending. 5% of these employees are those intentionally engaging in fraudulent activity, while the other 15% simply aren't spending as consciously as they should be.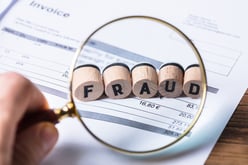 Even if employees aren't attempting to defraud the company, nearly 11% had at least one instance of policy misuse on their expense report.
Duplicate expenses should raise a red flag in organizations, as these are expenses that were simply submitted twice. Duplicates contribute to a large portion of wasted dollars: millions across organizations like the ones we used for the survey.
Like these visuals? We created an infographic that summarizes the best of the content from the Spend Analysis Report, a powerful visual for Oversight clients, customers, and fans to share. It is the first infographic Oversight has ever created, and one of many more to come.
If you want more knowledge we've detailed the three biggest problems lurking in corporate spending programs: fraud, waste, and misuse on our blog. Make sure you download the full Spend Analysis Report for T&E.