What do a hang glider, toilet paper, and a massage all have in common?
Answer: Actual employees submitted these as business expenses, according to Certify's Top 10 Craziest Business Expenses of 2017.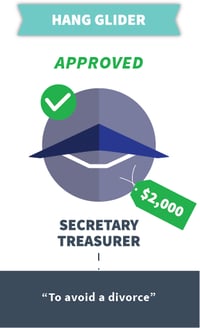 If you're scratching your head and wondering how anyone could have the nerve to submit these expenses, so are we.
Hang in there, it'll get better....
Believe it or not, the hang glider "expense" got approved. The employee claimed the purchase was "to avoid a divorce." We're not sure how jumping off a cliff in a kite could save a marriage, but what do we know? Buying a hang glider costs a whole lot more than, say, a one-hour marriage counseling session ($75 to $150 an hour - thank you Google Home for that stat!), but it's certainly got to be a lot more fun!
And what of the TP and the massage?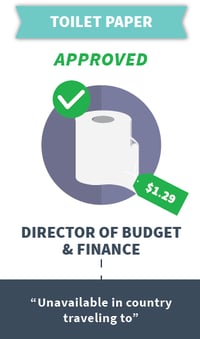 When in Rome...
Well, you might be surprised to know that the toilet paper purchase ($1.29) also got the green light. The employee's excuse? Toilet paper was supposedly "unavailable in country traveling to."
I'm not exactly what you would call a world traveler (yet), but still it's hard to imagine in the 21st century that TP is unknown anywhere in the world. Besides, if it were up to me, I think I'd pay for it out of my own pocket, instead of suffering the embarrassment of submitting such a ridiculous expense.
Or, as an alternative, what's that quote about "When in Rome, do as the Romans do"? What I'd like to know is what do people use instead of toilet paper? On second thought, maybe I don't.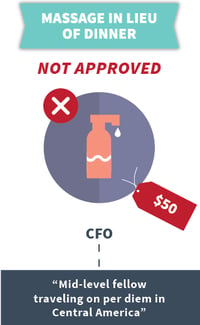 In the "nice try" department…
And the massage, that is a case of an employee trying to bend the rules. I know that never happens in your company. Yeah, right. Anyway, this clever employee tried to expense a $50 massage in lieu of their $50 per diem for dinner. Apparently, skipping dinner and expensing a massage instead – well, the boss thought that was pushing it a little too far.
Check out the cool infographic for details on the rest of the list, which includes helicopter rides, remote start for a vehicle, 40 kilos of cheese, car wash, boarding for a pet snake, leather trousers, and hip waders.
Most employees follow travel and expense policies. The repeat offenders are usually the exception – the 5 to 10 percent of employees who are always coming up with ingenious ways to game the system in their favor.
That's why we came up with Oversight Insights On Demand, a continuous monitoring and risk mitigation solution to help companies manage these repeat policy violators.
With Oversight, companies can automatically send customized emails to encourage employees to make better future spending decisions. This automated policy education and feedback approach really works, too. Many of our customers have seen policy violations drop by as much as 70%.
Surprisingly, the repeat offenders– typically end up having higher rates of compliance than the general employee population after this type of intervention. It just goes to show that at some point, most people run out of excuses.
Demo Oversight to see how you can mitigate risk in your financial spend, including travel & expense, purchase cards, and procure-to-pay.