My name is Tyler Davis, and I started at Oversight over a year ago as a DG rep, then became an Account Executive. As one of the newer members of the Oversight sales team, I was really anticipating Concur Fusion after hearing so many great things about last year's event. Here are 5 takeaways from the Concur Fusion event.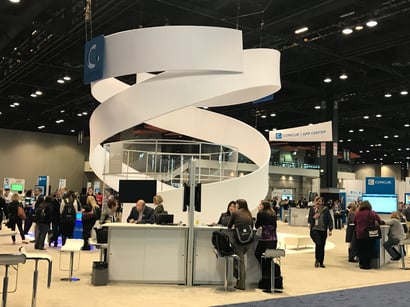 #1 – The Activity at our booth – We had a prime booth location this year, and spent the majority of our time in the Expo hall talking to current and potential customers, giving 6-10 demos each day for multiple companies at a time. Some of the veterans said we've never been busier at an event!
#2- Powerful Word of Mouth – I'm not at liberty to disclose names, but we had a number of current Oversight customers at the conference this year, many of whom had sessions of their own. We were very fortunate that they mentioned us by name in their sessions, which sent a ton of people to our booth.
#3 – Great Oversight Presence – Oversight brought our biggest contingent ever to Concur Fusion 2015. We had representatives from the sales team, executive leadership, our solutions team, and even Neha from client engagement made it out to event! Oversight also had two great sessions: "Mitigating Compliance Risk While Optimizing Your Spend Management," with our VP of Solutions, Manish Singh, and a round table with Executive Vice President, Chris Rossie. Attendance at both of those sessions was very encouraging.
#4 – Business Trips Can Be Fun Too- San Francisco is such a cool city. Who doesn't like to visit San Francisco? My favorite event was the Thursday night party hosted by Concur at Pier 27, which had a 60's theme. Great tacos, wonderful bourbon.
#5 – Collaborating With Our Customers – This year was also the first time we've had a formal customer event outside of the conference itself. Our Marketing Director, Jessica Kirk, did a great job of planning a fantastic customer dinner at 54 Mint. At the dinner I was struck by the rapport between current customers and the Oversight team. During the year, we work to make things better based on customer feedback, which makes our customers happy. The dinner felt like everyone was working together, and really differed from typical sales gatherings where everyone is trying to "woo" the other. At Oversight, we value our customers and it was nice to see this in action!
But the one thing I'll always remember about my first Fusion event is the amazing energy throughout the event. Concur Fusion is something that people look forward to, and Concur does a great job of putting on a classy, yet fun event. Conference participants are eager to learn about things that make their job easier and more efficient, which makes people excited to get to know one another. This is beneficial to vendors, sponsors, and Concur end users. GOversight!