Men, white-collar managers and staff, and younger employees are far more likely to commit expense fraud, according to new survey of 1,200 business travelers in the U.S., the U.K., and Australia by Chrome River Technologies.
Chrome River's survey found expense fraud was more likely to be committed by:
Younger employees. 82.9% of expense fraud was committed by those under the age of 44.
Manager-level and white-collar, non-managerial staff: 58.1% of those who cheated on expense reports were mid-level employees working in white collar jobs.
Males. Men were nearly twice as likely to commit expense fraud.
Who can say why fraud was more common among these groups of business travelers? We know from working with hundreds of companies and analyzing over $1.9 trillion in annual payments that fraud, waste, and misuse occurs across the spectrum of business travelers.
For example, one executive was making well over a six-figure salary, but it still wasn't enough. Over a few years, the executive wrote off several million dollars' worth of fraudulent expenses, including a sight-seeing trip to the south of France with his wife.
"It's unusual for high-ranking executives to commit fraud, but when they do, it can be spectacular," noted Anne Becknell, a senior vice president of strategic solutions at Chrome River, who recounted the story in Forbes. "Large or small, expense reimbursement fraud really cuts into a company's bottom line and drives up the cost of doing business."
Other survey takeaways include:
Men were four times more likely to pad an expense report by $1,000.
Females were more likely to misreport smaller amounts of under $100.
Males were 62.2% more likely to believe they wouldn't get caught falsifying expenses.
More than one-third of those admitting to fraud reported padding each report by $100 to $499.
One quarter of respondents reported they had been caught cheating on expenses.
Over 75% caught for an expense fraud said a warning was the most serious consequence they faced.
Males received formal warnings at a 31.6% higher rate than females.
Vice presidents and senior vice presidents had the lowest fraud rate at a combined 6.2%.
One of every two employees in Great Britain admitted to fraud. One of every four in Australia admitted cheating on expenses. Only 4.62% of Americans acknowledged falsifying expenses. However, that doesn't necessarily mean Americans are more honest than the British or Australians. Bucknell had her own explanation based on years of fraud investigations: "It appears they are outright lying," she told Forbes.
Expense fraud: The $1.9 billion business problem
Overall, business travel expense fraud costs businesses an estimated $1.9 billion per year. Businesses need to understand the scope of the problem and take active measures to combat it. To that end, one survey finding caught our eye:
Companies using manual reporting procedures were more vulnerable to fraud. Employees who submitted expenses using hard-copy receipts and spreadsheets were more than twice as likely to commit fraud than employees using automated expense solutions.
Frankly, this finding didn't surprise us. We've seen firsthand how the lack of strong internal controls set the stage for fraud. Likewise, expense reporting systems provide a first line of defense by catching when employees try to submit an expense a second time.
The problem is many businesses don't take the automation far enough. Sure, they've automated the reporting process.
Unfortunately, many haven't yet automated the expense auditing process. Many businesses still manually audit a sample of expense reports each month. For all their effort, they typically find mostly low-level infractions but uncover little material fraud or waste.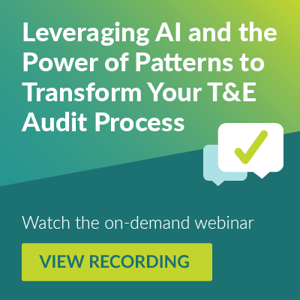 There's a better way to combat fraud: A recent report by the Association of Certified Fraud Examiners (ACFE) identified proactive data monitoring and analytics among the most effective internal controls at combating fraud in travel and expense (T&E) spending. By implementing proactive data monitoring controls (such as Oversight Insights On Demand), businesses reported 58% faster fraud detection and 56% lower fraud losses.
We explore how continuous monitoring and automated risk mitigation can help your business detect and stop fraud in our on-demand webinar.
Attendees will also learn:
Why manual audits won't find most hidden fraud risks and what to do instead
A proven way to create a streamlined risk mitigation workflow and increase compliance by up to 70%
How to optimize your T&E business processes, achieve 2-5% cost savings, and reduce T&E audit workloads by over 50%
Get more resources for stopping expense fraud