For decades, manufacturers have been deploying robots to automate many production and operational processes.
But now robots are moving rapidly into the back office. Financial process automation systems powered by artificial intelligence and machine learning technologies are tackling some of the toughest back-office business challenges.
At Shaw Industries, the world's largest carpet manufacturer, became one of the early adopters of AI technology from Oversight Systems to strengthen financial controls and automate risk management and compliance monitoring across corporate spending programs.
The company faced nagging problems with duplicate payments in the accounts payable department. They were constantly getting calls from vendors asking why invoices had been paid twice. At the time, Shaw had 55,000 vendors in its AP system and processed 20,000 checks per month and nearly $2 billion in annual payables, so fixing the problem wouldn't be a simple matter.
"Using Oversight Insights On Demand®, we were able to identify and remove over 450 duplicate vendors. This benefit alone gave us a return on investment in only four months," noted Jim Kirkpatrick, Senior Vice President of Finance at Shaw Industries Group, in an on-demand webinar. "With Oversight, we have reduced errors, increased policy compliance, and improved our control environment."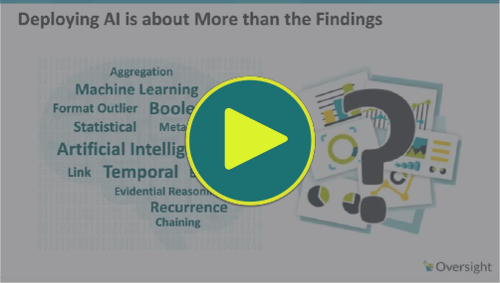 View the webinar, Deploying Artificial Intelligence into Financial Risk Management, to learn:
Best practices for mitigating financial risk and automating auditing processes
How AI can do the heavy lifting by automatically auditing and monitoring compliance across travel and expense, accounts payable, and purchase card spend programs
How to quickly detect waste and fraud and pinpoint the root causes of errors