Trusted by these companies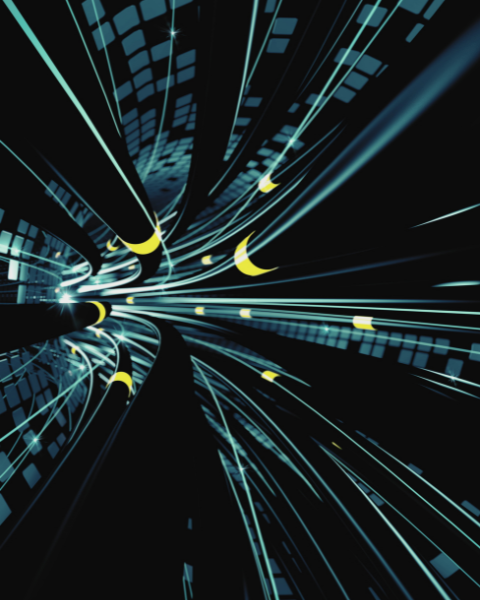 Powerful
Oversight's Multimodal AI Framework
Our unique approach to AI
Oversight AI integrates a multimodal AI framework to synthesize three AI subcomponents operating on different modalities.
Multimodal AI
The three AI analytic subcomponents include Deep Learning, Machine Learning and Expert System analytics.
Jump to: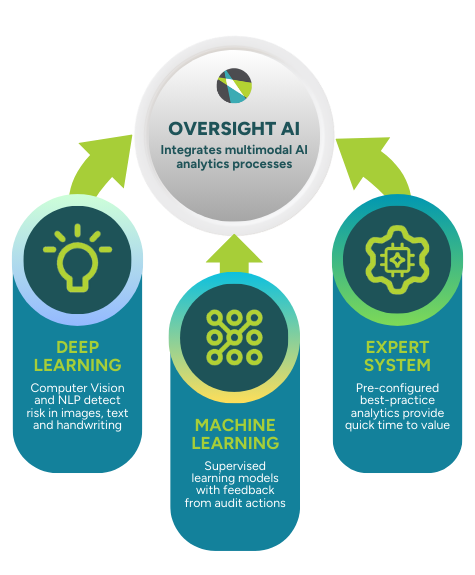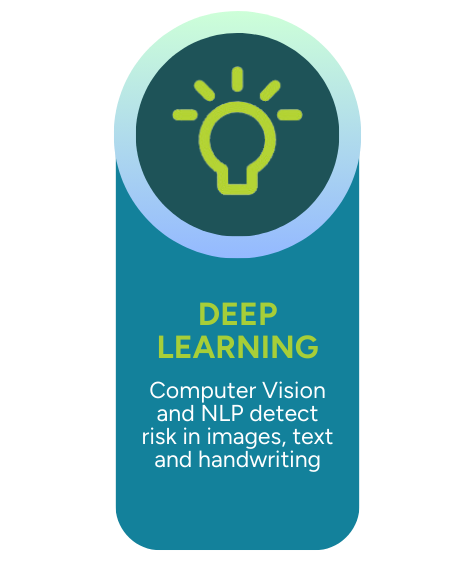 Deep Learning
Oversight's Deep Learning component utilizes AI powered Computer Vision which analyzes images and performs OCR on text, including handwriting, as well as image and landmark detection. This powerful engine recognizes hundreds of languages and uses Natural Language Processing (NLP) to identify context to produce more accurate results.
This technology is utilized on receipts, invoices, and other financial documents to automatically ensure that the documents are accurate, match the electronic financial data, and detects hidden risk. This Deep Learning component automatically scans 100% of the documents to ensure all risk is detected, and optimizes auditor time to only have to review risky or mismatched documents.
Machine Learning
Oversight's Machine Learning component utilizes supervised ML models that analyze tabular financial data with feedback and scoring based on human auditor actions. These models are trained on both anonymized global customer data but also prioritize customer-specific actions. This enables the highest immediate value, greatest fidelity, and most customer-specific analytics. These models are automatically re-trained each month against the latest data, enabling the engine to get continuously smarter and more accurate.
This Machine Learning component precisely identifies risk and reduces the amount of work that auditors need to take by automatically tuning the analytics to fit the customer's policies and risk profile.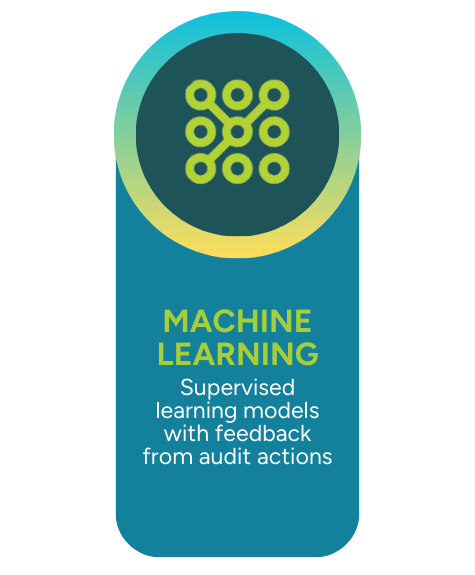 Expert System
Oversight's Expert System component encapsulates the expertise of the top-performing policy, fraud, and forensic auditors from the top financial firms as well as best-run organizations. They provide out-of-the-box best-practice analytics which provide instant value, and are configurable via parameters to match a company's policies.
Oversight's Expert System analyzes 100% of spend and is equivalent to having an army of the best auditors identifying errors, waste, misuse, compliance violations, and fraud. This allows for very easy implementations, immediate value, deep risk detection and prevention,
Oversight AI
Oversight AI ties these three components together, enhancing the capabilities of each one to provide an overall risk calculation that dynamically combines all indicators, resulting in more precise, deeper detection.
Global Risk Model
Oversight AI NEVER stops learning. The more data you run through the system, the better it gets at finding and shutting down financial leaks.
Safe
Isolated AI Analytics
The integrity of your data is our top priority.
Each customer's AI analytics run in their own environment with no chance of data, PII, or trade secrets being transferred from one customer to another.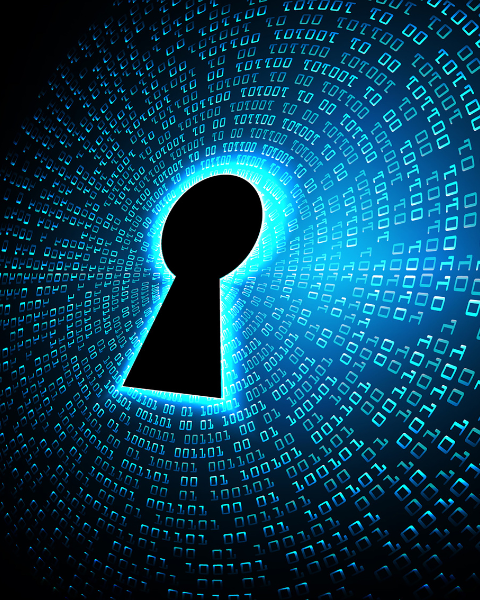 Explore the Oversight Platform
Integration made easy
Extend the power of Oversight AI to your ERP and finance systems. Oversight works with leading platforms, issuers, and networks to deliver seamless solutions.