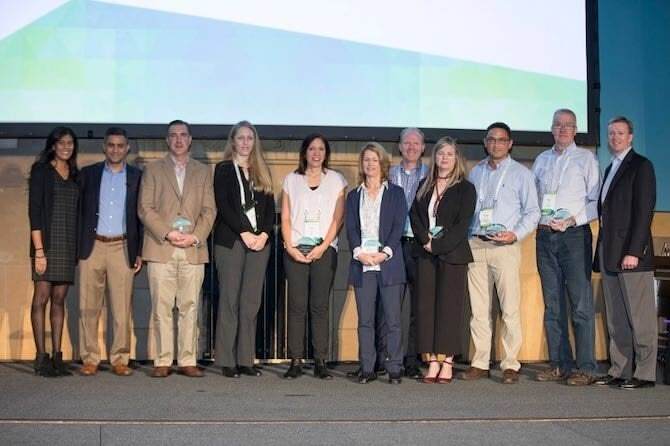 From left: Neha Wood and Manish Singh, Oversight Systems; Todd DiPietro, Fidelity Investments; Kimberly Simpson, Fidelity Investments; Karen Irish, Intel Corp.; , Rhonda Pense, Chevron; Blaine Rozas, BNSF; Becky Pinkerton-Clay, BNSF; Bradley Cumming, Kimberly-Clark; Gerry Elam, GE; and Terrence McCrossan, CEO, Oversight Systems.

At Oversight, we're extremely passionate about our customers. At the core of delivering value is making sure our customers are successful. That's why we're are constantly working to improve how we deliver value in how we on-board customers, perform ongoing business reviews, gather feedback, and deliver enhancements to our Insights On Demand® platform.

At Oversight's [in]sight 2018 user conference in Atlanta, I was proud to recognize the following customers with awards for outstanding achievement. These six companies are leveraging Oversight solutions to transform their businesses and achieve dramatic results in ROI, finance process automation, and operational efficiency.

Global Innovation Award: GE
GE powers the machines that save lives, the appliances used to feed our families, and aircraft that fly us across the globe. GE trusts Oversight to power their compliance process globally for Travel & Expense and Purchase Card monitoring and compliance.

End-to-End Risk Transformation Award: BNSF Railway
BNSF Railway is a company whose business is built on connection. As the operator of the largest freight railroad network in North America, BNSF depends on Oversight for powerful analytics to identify and mitigate hidden risks across T&E, P-Card, FCPA, and Procure-to-Pay programs.

Business Process Optimization Award: Chevron
As one of the world's largest oil companies, Chevron focuses on leveraging innovative technology to streamline its business processes. Through its partnership with Oversight, Chevron has transformed its T&E process and achieved amazing cost savings.

Strategic Partnership Award: Intel
Most of us know Intel for the technology found inside our phones and computers and being one of the largest manufacturers of semiconductor chips. Pushing the boundaries of technology, Intel makes amazing experiences possible for people around the world. With their innovative use of Oversight solutions, Intel has accomplished significant improvements in financial risk mitigation across T&E, FCPA, and P2P corporate spend.

Early Adopter Excellence Award: Kimberly-Clark
Kimberly-Clark built its business around "turning ideas into essentials." For the global consumer products company, Oversight is an essential part of their financial risk mitigation strategy. As an early adopter, the company helped shape the development of Oversight's powerful analytics engine that today helps hundreds of global businesses detect and mitigate financial risks in their T&E and P-Card spending.

Compliance Achievement Award: Fidelity Investments
Fidelity Investment's business is focused on sharing its financial expertise to help 27 million customers live their best lives. The company trusts Oversight to detect and mitigate financial risk across T&E, P-Card, and P2P. Using Oversight, they have achieved phenomenal success in optimizing compliance these spending areas.

I'd like to congratulate all of this year's Oversight Systems Customer Excellence Award winners!